Online Gambling In Massachusetts A No Go In 2017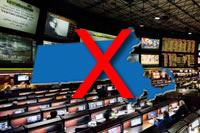 After much debate and thought on the issue of online gambling, Massachusetts legislators have decided that inaction is the best course of action at this time. With opposition on both sides of the issue, legislators decided to table the issue for another year. This is unfortunate, as MA was thought to be a leading contender for online gambling legalization at the beginning of 2017.
"Online lottery and online gaming are both issues that are being reviewed now to try to figure out how we manage the situation so we don't hurt the lottery," Stan Rosenberg, Senate President, said in an interview with a local Boston radio station. "And in the case of online gaming, that we don't hurt the casino industry we're building in Massachusetts."
This reasoning can be drawn directly back to complaints made by casino owners at the beginning of the year. After multiple reports came out stating that Massachusetts legislators were seriously considering the regulation of online gambling in the state, several opponents became extremely vocal, namely, the three casino owners who fought for years to have land-based gambling legalized in the state.
These three casino owners in Massachusetts shelled out quite a bit of cash to open facilities in the state, and they felt that their loyalty was being directly targeted by this proposal. When online gambling was opened on the floor of State Congress, they weren't hesitant in making their concerns known.
Most vocal amongst the casino owners is Eric Schippers, a senior Vice President with Penn National. He stated in an interview that if online gambling were to come to Massachusetts, he (and the other casino owners in the state) should have the exclusive rights to offering online gaming to MA residents. See, his biggest issue was the already well-established online, offshore casino business.
Penn National, along with another casino in the state, have already spent nearly $200 million on licensing fees and construction costs alone. The owners believe that it is unfair that someone who is running a website with virtually no overhead cost (at least comparable to what they're spending for land-based physical locations) should be allowed to just waltz right in after they have invested so much into the industry and trusted the state with that investment.
Stephen Crosby, the Chairman of the Massachusetts Gaming Commission, feels differently. "There's billions of dollars being gambled online now. The question is whether we in Massachusetts want to take it out of the shadows…and take a piece of the action." Many in the legislation felt that it was their right and duty to pursue as many avenues for new revenue as possible.
None more so, it seems, than State Treasurer Deb Goldberg. She not only pushed legislation in 2016 but has been one of the most active proponents of legalizing online gambling and lottery sales in 2017, as well. "We must join the 21st century if this business is going to continue to thrive," She said. "The internet has proved to be a lucrative and beneficial business platform."
When it became known to her that the Senate would not be taking any action on proposed legislation this session, She made her disappointment clear. "My feeling is we have an opportunity…I just hope that opportunity doesn't get blocked."
| Legal MA Sports Betting Sites | New Player Bonuses + Promos | Bet Now |
| --- | --- | --- |
| Bovada Sportsbook | $250 w/ 50% Match - Low Rollover | Click To Sign Up |
| BetOnline Sportsbook | $1K w/ 50% Match - Good For Life | Click To Sign Up |
| SportsBetting Sportsbook | $1K w/ 50% Match - Lifetime Bonus | Click To Sign Up |
| BetDSI Sportsbook | $100 w/ 100% Match - Lifetime Bonus | Click To Sign Up |
| 5Dimes Sportsbook | Multi Bonus Worth Up To $520 | Click To Sign Up |